Our rifle range consists of a covered shelter with 6 benches and targets at 25, 50, 100, and 200 yards.  We conduct center fire rifle matches at 100 and 200 yards as well as rim fire matches at 50 yards. All rifle matches are open to the public.
---
Centerfire Rifle Match Results Mar 2018

Left to Right:
200 yards Open Class score (50) and 100 yard Sporter class Plaque winner-score (48) Jamie Compton
Semi Auto cash class 100 yard Mason Whitaker score (49) with an AR 15 great shooting Mason
Sydney Combs (Missing his wife) 🤪
Mike Snedegar 100 yard Factory Heavy Barrel score (48) 100 yard semi auto plaque class score (47)
Luke Pierce youngest shooter today shot very competitive great shooting
Sarah Pierce winner of 100 yard sporter cash class yep she beat her Dad!!!  Great shooting Sarah
Jim Pierce Senior Shooter
Thanks to PAUL Baxter for scoring the targets.
Have a great day may God Bless,
James Compton
---
Congratulations to Mike Snedegar on winning the ARA Rimfire championship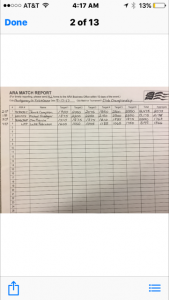 Sucker Shoot Winners
Congratulations to Brandon Tackett on winning the Factory Heavy barrel sucker match.
Congratulations to Jamie Compton on winning the 200 yard unlimited class
Congratulations to Michael Snedegar on winning the 17 CAL match, AR Class, and Factory Sporter barrel class.